The Post-COVID India:
Making science and technology socially and environmentally relevant
Keywords:
COVID 19, Interdisciplinary Dialogue., Science and Technology
References
Chatterjee, Pranab, Manish Kakkar, and Sanjay Chaturvedi. 2016. "Integrating One Health in National Health Policies of Developing Countries: India's Lost Opportunities." Infectious Diseases of Poverty 5 (87). https://doi.org/10.1186/s40249-016-0181-2.
Chief Labour Commissioner. 2020. The Inter-State Migrant Workmen (Regulation of Employment and Conditions of Service) Act, 1979. Accessed June 22, 2020. https://clc.gov.in/clc/acts-rules/inter-state-migrant-workmen
echo network. "India's Journey Beyond COVID." Accessed June 22, 2020. https://www.echonetwork.in/download.
Ghani, Ejaz., William R. Kerr, Stephan D. O' Connell. 2013. "The Exceptional Persistence of India's Unorganized Sector." Policy Research Working Paper 6454. Washington DC: World Bank.
Ghosh, Arunabha, Shuva Raha, Nandini Harihar, Shweta Jha, Hemant Mallya, Disha Agarwal, Prateek Aggarwal, et al. 2020. Jobs, Growth and Sustainability: A New Social Contract for India's Recovery. CEEW and NIPFP Report. New Delhi: Council on Energy, Environment and Water.
India State-level Disease Burden Initiative Collaborators (ISDBIC). 2017. "Nations Within a Nation: Variations in Epidemiological Transition Across the States of India, 1990–2016 in the Global Burden of Disease Study." The Lancet 390 (10111): 2437–2460. https://doi.org/10.1016/S0140-6736(17)32804-0.
International Labour Organization (ILO), ILOSTAT Database. 2020. "Labor Force Participation Rate, Female (% of female population ages 15+) (modeled ILO estimate)." The World Bank. Accessed March 1, 2020. https://data.worldbank.org/indicator/SL.TLF.CACT.FE.ZS.
Krishnan, Anusha. 2020. "The National Mission on Biodiversity and Human Well-Being: For a Greener, Healthier, and More Sustainable Way of Life." NCBS News, March 3. http://news.ncbs.res.in/bigger-picture/national-mission-biodiversity-and-human-well-being-greener-healthier-and-more.
Mehrotra, Santosh and Jajati K. Parida. 2019. "India's Employment Crisis: Rising Education Levels and Falling Non-agricultural Job Growth." CSE Working Paper. Bengaluru: Azim Premji University.
Ministry of Housing and Urban Poverty Alleviation (MHUPA). 2017. Report on the Working Group on Migration. New Delhi: Ministry of Housing and Urban Poverty Alleviation, Government of India.
Narayan, Sudha. 2020. "The Continuing Relevance of MGNREGA." The India Forum, March 21. https://www.theindiaforum.in/article/continuing-relevance-mgnrega.
Patel, Vikram, Rachana Parikh, Sunil Nandraj, Priya Balasubramaniam, Kavita Narayan, Vinod K. Paul, and A.K. Shiva Kumar et al. 2015. "Assuring Health Coverage for all in India." The Lancet 386 (10011): 2422–35. https://doi.org/10.1016/S0140-6736(15)00955-1.
Planning Commission of India. 2011. High Level Expert Group Report on Universal Health Coverage for India. New Delhi: Planning Commission of India.
Ravindran, Sundari T. K. and Rakhal Gaitonde. 2018. Health Inequities in India: A Synthesis of Recent Evidence. Singapore: Springer.
Thakur, J. S. 2011. "Key Recommendations of High-level Expert Group Report on Universal Health Coverage for India." Indian Journal of Community Medicine: Official Publication of Indian Association of Preventive & Social Medicine 36 (1): 84–85.
Vanak Abi T. and Mridula M. Paul. 2020. "The Time is Tight for Onehealth Science." The Hindu, March 14. https://www.thehindu.com/sci-tech/science/the-time-is-right-for-onehealth-science/article31069639.ece.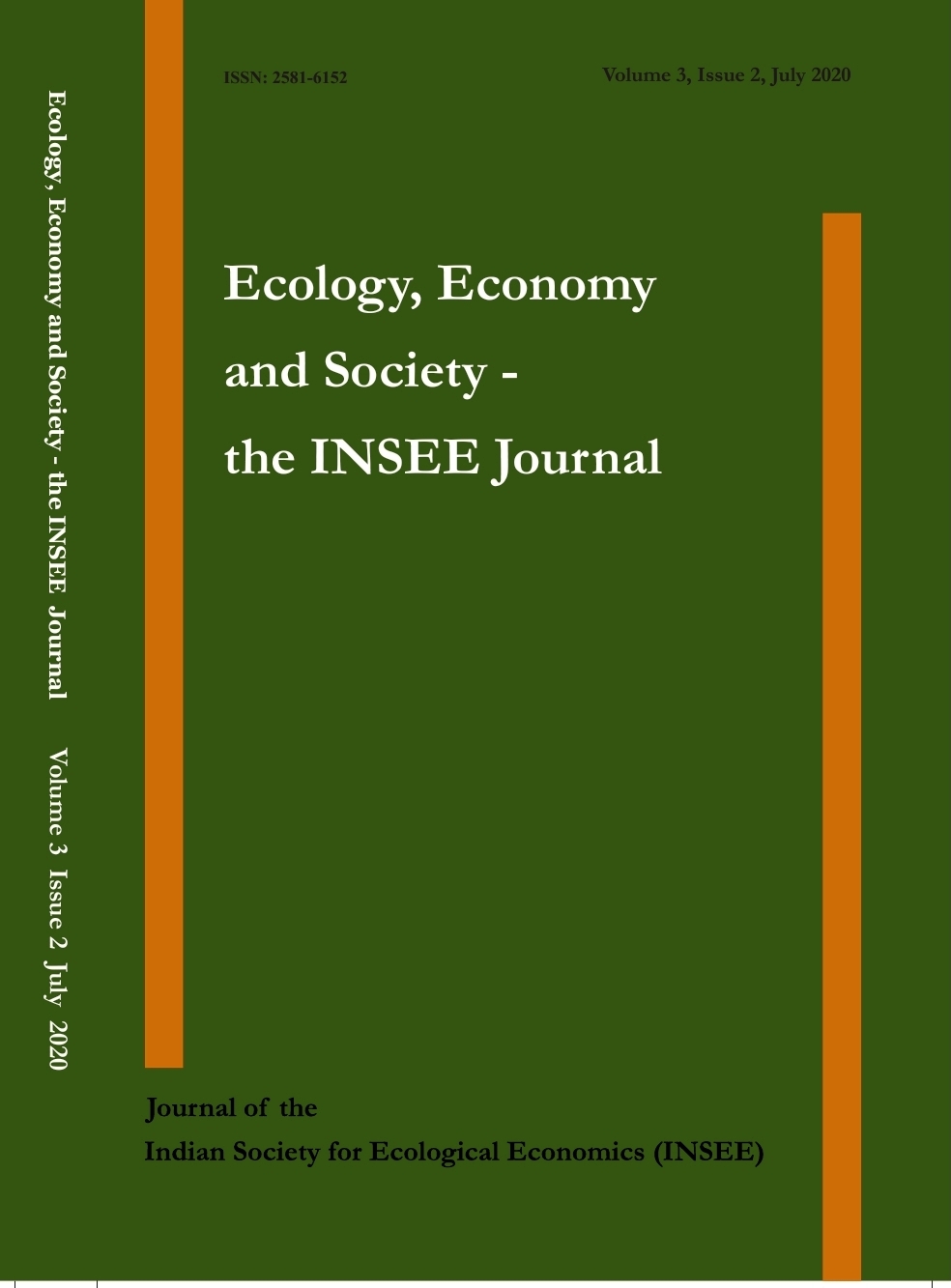 Additional Files
License
Copyright
The author(s) retain copyright on work published by INSEE unless specified otherwise.
Licensing and publishing rights
​Author(s) of work published by INSEE are required to ​​transfer non-exclusive publishing right to INSEE of the definitive work in any format, language and medium, for any lawful purpose.
Authors who publish in Ecology, Economy and Society will release their articles under the Creative Commons Attribution NonCommercial 4.0 International (CC BY-NC 4.0) license. This license allows anyone to copy and distribute the article for non-commercial purposes provided that appropriate attribution is given.
For details of the rights that the authors grant users of their work, see the "human-readable summary" of the license, with a link to the full license. (Note that "you" refers to a user, not an author, in the summary.)
The authors retain the non-exclusive right to do anything they wish with the published article(s), provided attribution is given to the Ecology, Economy and Society—the INSEE Journal with details of the original publication, as set out in the official citation of the article published in the journal. The retained right specifically includes the right to post the article on the authors' or their institution's websites or in institutional repositories.
In case of re-publishing a previously published work, author may note that earlier publication may have taken place a license different from Creative Commons. In all such cases of re-publishing, we advise the authors to consult the applicable licence at article level.