COVID-19
Urban Density's Poetic Justice
Keywords:
COVID, urban planning, density
Abstract
COVID-19 continues to teach us lessons about our urban design, which has been so divorced from natural systems. Specifically, world over, it has challenged the decades old principle of urban planning which says that cities should be as dense as can be. With ingrained lifestyles in the dense concrete jungles, it becomes difficult for those who benefit from urban density to admit that there is a limit to density when we ourselves have become the vectors and victims of the virus.  Meanwhile in densely urban India, the poor migrants bear the risk of being exported from the urban dreams that they never got to share. That may or may not change the traditional orientation toward growth-at-all-costs, but there may be an increased appreciation and demand among the urbanites for working with nature.
References
Bhar, Soumyajit. 2020. "Degrowth and COVID-19: Are We Drawing a Simplistic Connection?" Mongabay India, April 21. https://india.mongabay.com/2020/04/ commentary-degrowth-and-covid-19-are-we-drawing-a-simplistic-connection/.
Calvino, Italo. 1978. Invisible Cities. New York: Harcourt Brace Jovanovich.
CNBC Sustainable Energy. 2020. "Urban Forests and the Transformation of Cities, Part One," CNBC, April 17, 2020. https://www.cnbc.com/2020/04/17/urban-forests-and-the-transformation-of-cities-part-one.html.
Fang, Wanli, and Sameh Wahba. 2020. "Urban Density Is Not an Enemy in the Coronavirus Fight: Evidence from China." World Bank Blogs, April 20. https://blogs.worldbank.org/sustainablecities/urban-density-not-enemy-coronavirus-fight-evidence-china.
Gohil, Jasmine. 2020. "The Future of Built Environment in India." YourStory, May 3. https://yourstory.com/2020/04/future-built-environment-india-infrastructure.
Kotkin, Joel. 2020. "Angelenos like Their Single-Family Sprawl. The Coronavirus Proves Them Right." Los Angeles Times, April 26, 2020. https://www.latimes.com/opinion/ story/2020-04-26/coronavirus-cities-density-los-angeles-transit.
Krugman, Paul. 2020. "Is Density Deadly?" The New York Times, March 24.
Lakshmi, Rama. 2020. "India's One Lesson from Covid Crisis and Work-from-Home: How to Build a Real Smart City." The Print, April 20. https://theprint.in/opinion/ lesson-india-covid-crisis-how-to-build-real-smart-city/398771/.
Mathews, Rejeet, and Akanksha Gupta. 2020. "COVID-19 and Summer Heat: Building Our Cities Anew." TimesNow, April 25. https://www.timesnownews.com/india/article/ covid-19-and-summer-heat-building-our-cities-anew/582592.
Odum, Howard T, and Elisabeth C Odum. 2008. A Prosperous Way Down: Principles and Policies. University Press of Colorado.
Pai, Madhav. 2020. "From My Window: A View of the COVID-19 Pandemic in Mumbai." TheCityFix, April 17. https://thecityfix.com/blog/window-view-covid-19-pandemic-mumbai-madhav-pai/
Paul, Mridula, and Abi T Vanak. 2020. "COVID-19: Who Do You Blame a Pandemic On?" Down to Earth, April 23. https://www.downtoearth.org.in/blog/economy/covid-19-who-do-you-blame-a-pandemic-on--70652.
Shoichet, Catherine E, and Athena Jones. 2020. "Coronavirus Is Making Some People Rethink Where They Want to Live," CNN, May 2. https://edition.cnn.com/2020/05/02/ us/cities-population-coronavirus/.
Zeljic, Aleksandar Sasha. 2020. "Polycentric Cities: The Future of Sustainable Urban Growth." Gensler. https://www.gensler.com/research-insight/blog/polycentric-cities-new-normal-manila-finance-centre.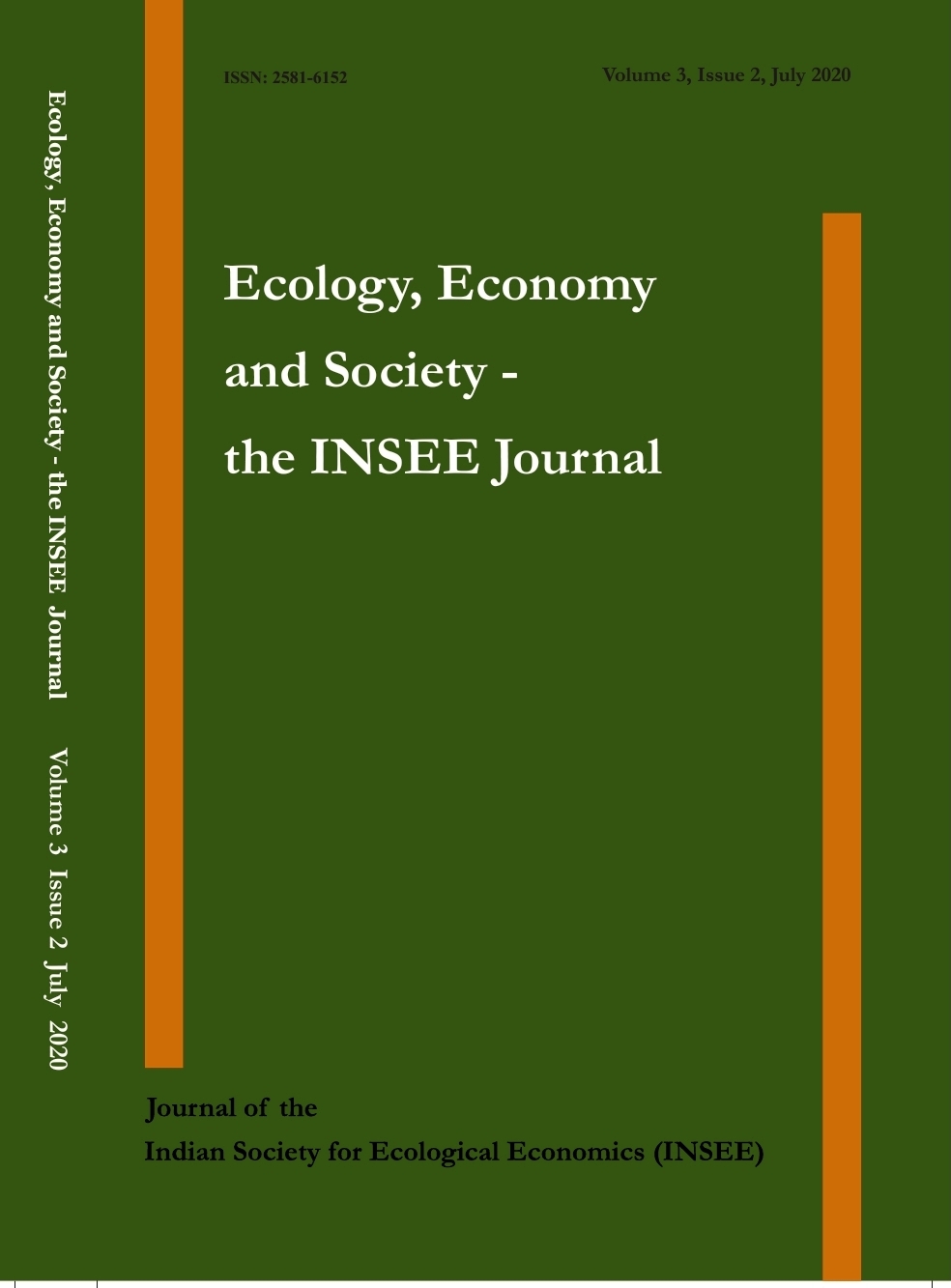 Additional Files
License
Copyright
The author(s) retain copyright on work published by INSEE unless specified otherwise.
Licensing and publishing rights
​Author(s) of work published by INSEE are required to ​​transfer non-exclusive publishing right to INSEE of the definitive work in any format, language and medium, for any lawful purpose.
Authors who publish in Ecology, Economy and Society will release their articles under the Creative Commons Attribution NonCommercial 4.0 International (CC BY-NC 4.0) license. This license allows anyone to copy and distribute the article for non-commercial purposes provided that appropriate attribution is given.
For details of the rights that the authors grant users of their work, see the "human-readable summary" of the license, with a link to the full license. (Note that "you" refers to a user, not an author, in the summary.)
The authors retain the non-exclusive right to do anything they wish with the published article(s), provided attribution is given to the Ecology, Economy and Society—the INSEE Journal with details of the original publication, as set out in the official citation of the article published in the journal. The retained right specifically includes the right to post the article on the authors' or their institution's websites or in institutional repositories.
In case of re-publishing a previously published work, author may note that earlier publication may have taken place a license different from Creative Commons. In all such cases of re-publishing, we advise the authors to consult the applicable licence at article level.