Why Regulations Come Up Short?
Some Observations from a Field Study of the Kanpur Leather Industry
References
Bosnic, J. Buljan, and R. P. Daniels. 2000. "Pollutants in Tannery Effluents." United Nations Industrial Development Organization. https://leatherpanel.org/sites/default/files/publications-attachments/pollutants_in_tannery_effluents.pdf.
Central Leather Research Institute (CLRI). 2012. "Study Report on Relocation of Tanneries in Jajmau, Kanpur." Lucknow: Government of Uttar Pradesh.
Central Pollution Control Board (CPCB). 2019. "Guidelines for Environmental Improvement in Leather Tannery Sector." New Delhi. http://www.indiaenvironmentportal.org.in/files/file/Draft%20Guidelines%20for%20Environmental%20Improvement%20in%20Leather%20Tannery%20Sector.pdf.
Central Pollution Control Board (CPCB). 2018. "Report on River Stretches for Restoration of Water Quality: State Wise and Priority Wise." India Environment Portal, September 28. http://www.indiaenvironmentportal.org.in/content/458938/report-on-river-stretches-for-restoration-of-water-quality-state-wise-and-priority-wise/.
Sengupta, Sushmita. 2017. "Ganga's Burden of Pollutants from Kanpur to Varanasi." Down to Earth, February 21. https://www.downtoearth.org.in/blog/gangas-burden-of-pollutants-from-kanpur-to-varanasi-45382.
Parthasarathy, Sindhuja. 2016. "In Pictures: The Toxic Cost of Kanpur's Leather Industry." India Today, July 19. https://www.indiatoday.in/fyi/story/the-toxic-cost-of-kanpurs-leather-industry-329990-2016-07-19.
Pure Earth. 2016. "Tannery Operations." World's Worst Pollution Problems. https://www.worstpolluted.org/projects_reports/display/136.
Mukherjee, Arindam. 2013. "Kanpur: A City Being Killed by Pollution." Aljazeera, October 6. https://www.aljazeera.com/indepth/inpictures/2013/10/kanpur-a-city-being-killed-by-pollution-2013103102518868628.html.
Koshy, Jacob. 2018. "Nowhere to Hide: How Kanpur's Tanneries Are Struggling to Stay Afloat." The Hindu, September 1. https://www.thehindu.com/news/national/other-states/nowhere-to-hide/article24835411.ece.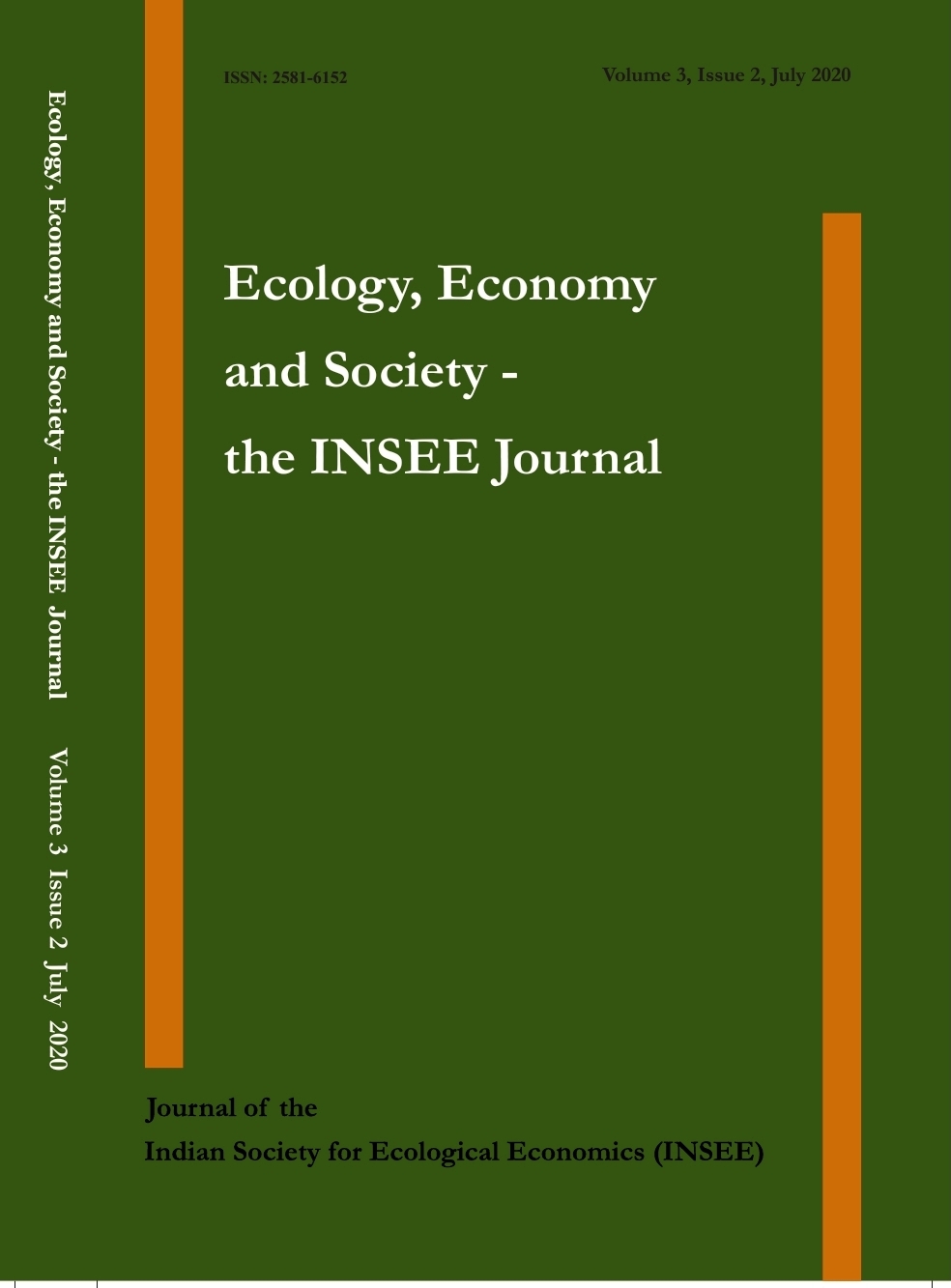 Section
Notes from the Field
Copyright (c) 2020 Singh and Gundimeda
This work is licensed under a Creative Commons Attribution-NonCommercial 4.0 International License.
Copyright
The author(s) retain copyright on work published by INSEE unless specified otherwise.
Licensing and publishing rights
Author(s) of work published by INSEE are required to grant INSEE the unlimited rights to publish the definitive work in any format, language and medium, for any lawful purpose. INSEE requires journal authors to publish their work in open access under the Creative Commons Attribution NonCommercial 4.0 International (CC BY-NC 4.0) license.
The authors retain the non-exclusive right to do anything they wish with the published article(s), provided attribution is given to the Ecology, Economy and Society—the INSEE Journal with details of the original publication, as set out in the official citation of the article published in the journal. The retained right specifically includes the right to post the article on the authors' or their institution's websites or in institutional repositories.
In case of re-publishing a previously published work, author may note that earlier publication may have taken place a license different from Creative Commons. In all such cases of re-publishing, we advise the authors to consult the applicable licence at article level.