Conserving Economics for Biodiversity
Reflections on "The Dasgupta Review"
Keywords:
Biodiversity; Conserving Economics; Institutions; Complexity; Environmental Social Science;
Abstract
The Economics of Biodiversity: The Dasgupta Review (Dasgupta 2021), henceforth the Review, tells us that we are embedded in Nature and our economies are bounded within Nature. It helps us estimate the value of natural capital and include it in estimations of economic output. The Review's key messages concern (i) keeping our demands well within Nature's supply, (ii) moving away from gross domestic product (GDP) towards inclusive wealth as a measure of economic success, and (iii) acknowledging the institutional failure in addressing global environmental problems and resolving them through institutional reforms in the financial and education systems. However, this commentary suggests that the Review is about conserving economics for biodiversity. It offers little opportunity for transformative change in our thinking and acting, to change our relationship with Nature so that we can conserve its diversity and dynamism...
References
BPUMS. 2010. The biocultural community protocol of the Maldharis of Banni. Banni Pashu Uchherak Maldhari Sanghatan (Banni Breeders Association) in collaboration with Natural Justice, South Africa and Sahjeevan, Bhuj, Kutch, p.34.
Dasgupta, P. 2021. The Economics of Biodiversity: The Dasgupta Review, HM Treasury: London.
Faber, M. 2008. How to be an ecological economist, Ecological Economics Vol. 66(1): 1-7.
Georgescu-Roegen, N. 1975. Energy and Economic Myths, Southern Economic Journal, Vol. 41 (3): 347-381.
Gov.uk. 2021. Nature is a blind spot in economics that we ignore at our peril, says Dasgupta Review (https://www.gov.uk/government/news/nature-is-a-blind-spot-in-economics-that-we-ignore-at-our-peril-says-dasgupta-review (accessed March 2021)
Kapp, William K. 1968. In Defense of Institutional Economics, The Swedish Journal of Economics, Vol. 70 (1): 1-18.
Kapp. William K. (Berger S., and Steppacher, R. (Eds.) 2011. The Foundations of Institutional Economics, Routledge: London.
Levin, S., Xepapadeas. T., Crepin, A-S., Norberg, J., Zeeuw, A de., Folke, C., Hughes, T., Arrow, K., Barrett, S., Daily, G., Ehrlich, P., Kautsky, N., Maler, KG., Polasky, S., Troell, M., Vincent, J. R., Walker, B. 2019. Social ecological systems as complex adaptive systems: Modeling and policy implications, Environment and Development Economics, Vol. 18(2): 111-132. (doi:10.1017/S1355770X12000460)
Martinez-Alier, J., Munda, G., Neil, J. O. 1998. Weak comparability of values as a foundation for ecological economics, Ecological Economics, Vol. 26 (3): 277-286.
Soderbaum, P. 2000. Ecological Economics: Political Economics for Social and Environmental Development. Routledge: London.
The CORE Team. 2017. The Economy: Economics for a Changing World, Oxford University Press: New York.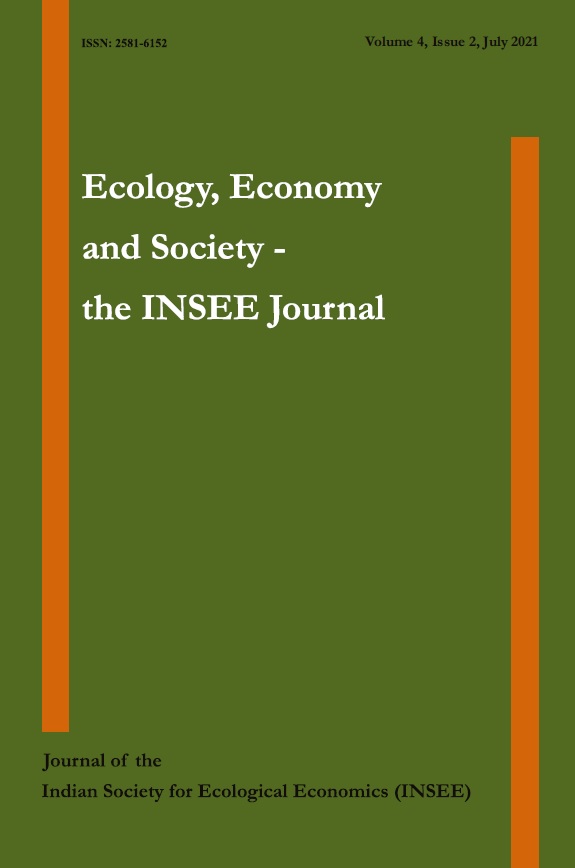 Additional Files
License
Copyright (c) 2021 Rajeswari S Raina
This work is licensed under a Creative Commons Attribution-NonCommercial 4.0 International License.
Copyright
The author(s) retain copyright on work published by INSEE unless specified otherwise.
Licensing and publishing rights
​Author(s) of work published by INSEE are required to ​​transfer non-exclusive publishing right to INSEE of the definitive work in any format, language and medium, for any lawful purpose.
Authors who publish in Ecology, Economy and Society will release their articles under the Creative Commons Attribution NonCommercial 4.0 International (CC BY-NC 4.0) license. This license allows anyone to copy and distribute the article for non-commercial purposes provided that appropriate attribution is given.
For details of the rights that the authors grant users of their work, see the "human-readable summary" of the license, with a link to the full license. (Note that "you" refers to a user, not an author, in the summary.)
The authors retain the non-exclusive right to do anything they wish with the published article(s), provided attribution is given to the Ecology, Economy and Society—the INSEE Journal with details of the original publication, as set out in the official citation of the article published in the journal. The retained right specifically includes the right to post the article on the authors' or their institution's websites or in institutional repositories.
In case of re-publishing a previously published work, author may note that earlier publication may have taken place a license different from Creative Commons. In all such cases of re-publishing, we advise the authors to consult the applicable licence at article level.