When the "Field" Moves Online
Reflections on Virtual Data Collection during COVID-19
Keywords:
Online, Fieldwork, COVID-19, Urban agriculture
References
Ahmed, Nabila, Sally Cawood, Sarita Panday, Megnaa Mehtta, Glyn Williams, Jiban Kumar Karki, and Ankit Kumar. 2020. "Should Our Academic Approach towards Researching South Asia Change Due to COVID-19?" LSE Blog. https://blogs.lse.ac.uk/southasia/2020/08/21/should-our-academic-approach-towards-researching-south-asia-change-due-to-covid-19/
Bengtsson, Stina. 2014. "Faraway, So Close! Proximity and Distance in Ethnography Online." Media, Culture & Society 36 (6): 862–877. https://doi.org/10.1177/0163443714531195
Cavanagh, Tom. 2016. "Constructing Ethnographic Relationships: Reflections on Key Issues and Struggles in the Field." Waikato Journal of Education 11(1). https://doi.org/10.15663/wje.v11i1.317
Desai, Ketaki. 2020. "Millennials' Love for Gardening Is Blooming in a Big Way." Times of India, May 10, 2020. https://timesofindia.indiatimes.com/home/sunday-times/millennials-love-for-gardening-is-blooming-in-a-big-way/articleshow/75650556.cms
Dodds, Sarah, and Alexandra Claudia Hess. 2020. "Adapting Research Methodology during COVID-19: Lessons for Transformative Service Research." Journal of Service Management (ahead-of-print). https://doi.org/10.1108/JOSM-05-2020-0153
Glatt, Zoe, and Branwen Spector. 2020. "Digital Ethnography Collective Reading List." https://zoeglatt.com/wp-content/uploads/2020/03/LSE-Digital-Ethnography-Collective-Reading-List-March-2020.pdf
Howlett, Marnie. 2021. "Looking at the 'Field' through a Zoom Lens: Methodological Reflections on Conducting Online Research during a Global Pandemic." Qualitative Research: 146879412098569. https://doi.org/10.1177/1468794120985691
Johnson, Timothy P. 2014. "Snowball Sampling: Introduction." Wiley StatsRef: Statistics Reference Online. https://onlinelibrary.wiley.com/doi/abs/10.1002/9781118445112.stat05720
Lupton, Deborah. 2020. "Doing Fieldwork in a Pandemic (Crowd-Sourced Document)." https://docs.google.com/document/d/1clGjGABB2h2qbduTgfqribHmog9B6P0NvMgVuiHZCl8/edit?ts=5e88ae0a#
Pinto, Viveat Susan. 2020. "Covid-19 Lockdown Effect: Every Second Indian Now on Internet in Cities." Business Standard, May 9, 2020. https://www.business-standard.com/article/economy-policy/covid-19-lockdown-effect-every-second-indian-now-on-internet-in-cities-120050801805_1.html
Ramesh, Madhuri. 2020. "A Call to Redefine 'the Field' in Nature Conservation Studies in India." Ecology, Economy and Society–the INSEE Journal 3(2): 27–31. https://doi.org/10.37773/ees.v3i2.123.
Srinath, Shruthi. 2020. "Look Up, the Terraces Thrive." Deccan Herald, May 8, 2020 https://www.deccanherald.com/spectrum/look-up-the-terraces-thrive-835229.html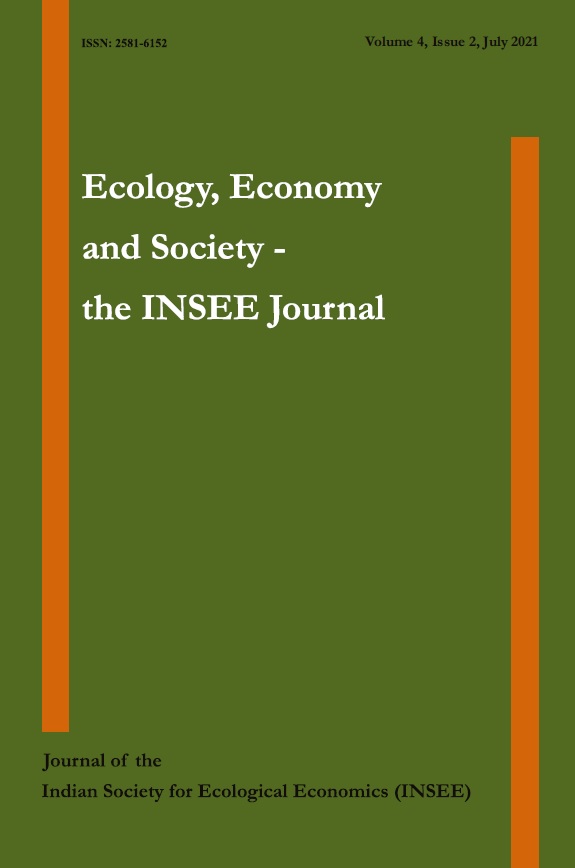 Additional Files
Section
Insights from the Field
License
Copyright (c) 2021 Chandni Singh , Sheetal Patil, Prathigna Poonacha, Maitreyi Koduganti, Swarnika Sharma
This work is licensed under a Creative Commons Attribution-NonCommercial 4.0 International License.
Copyright
The author(s) retain copyright on work published by INSEE unless specified otherwise.
Licensing and publishing rights
​Author(s) of work published by INSEE are required to ​​transfer non-exclusive publishing right to INSEE of the definitive work in any format, language and medium, for any lawful purpose.
Authors who publish in Ecology, Economy and Society will release their articles under the Creative Commons Attribution NonCommercial 4.0 International (CC BY-NC 4.0) license. This license allows anyone to copy and distribute the article for non-commercial purposes provided that appropriate attribution is given.
For details of the rights that the authors grant users of their work, see the "human-readable summary" of the license, with a link to the full license. (Note that "you" refers to a user, not an author, in the summary.)
The authors retain the non-exclusive right to do anything they wish with the published article(s), provided attribution is given to the Ecology, Economy and Society—the INSEE Journal with details of the original publication, as set out in the official citation of the article published in the journal. The retained right specifically includes the right to post the article on the authors' or their institution's websites or in institutional repositories.
In case of re-publishing a previously published work, author may note that earlier publication may have taken place a license different from Creative Commons. In all such cases of re-publishing, we advise the authors to consult the applicable licence at article level.