Imperilled Waterscapes
The Social-Ecological Transformation of Lakes in Bengaluru
Keywords:
waterscapes, lakes, urbanization, Bellandur, Bengaluru
Abstract
This paper examines the historical waterscapes of Bengaluru, now imperilled by development. Earlier a garden city, the agrarian landscape of Bengaluru was formerly supplied with water from an interconnected lake system. This system has since been fragmented due to urbanization and changes in land cover, impacting local institutions and livelihoods dependent on the lakes. In this paper, we use the case of the city's largest lake, Bellandur, to demonstrate the transformation of the waterscape from an open semi-arid landscape pre-dating the city into an agrarian water-dependent landscape characterized by flows of water in pre-colonial and colonial Bengaluru, and finally into a concretized landscape and the individualization of lakes in the "modern" city. Claims to and associations with the lake ecosystem have altered through changing hydrological, institutional, and social relations, leading to shifts in imaginations of the lake as well.
References
Goh, Kian. 2019. "Urban Waterscapes: The Hydro-politics of Flooding in a Sinking City." International Journal of Urban and Regional Research 43 (2): 250–272. http://dx.doi.org/10.1111/1468-2427.12756.
Gurukkal, Rajan. 1986. "Aspects of Reservoir System of Irrigation in the Early Pandya State." Studies in History 2 (2): 155–164. https://doi.org/10.1177/025764308600200202.
Lewis Rice, Benjamin. 1915. Epigraphia Carnatica Volume IX. Bangalore: Mysore Government Press.
Mosse, David. 1997. "The Symbolic Making of a Common Property Resource: History, Ecology and Locality in a Tank Irrigated Landscape in South India." Development and Change 28 (3): 467–504. https://doi.org/10.1111/1467-7660.00051.
Mosse, David. 1999. "Colonial and Contemporary Ideologies of 'Community Management': The Case of Tank Irrigation Development in South India." Modern Asian Studies 33 (2): 303–338. https://doi.org/10.1017/S0026749X99003285.
Mukherjee, Jenia. 2018. "From Hydrology to Hydrosociality: Historiography of Waters in India." In Routledge Handbook of the History of Sustainability, edited by Jeremy L. Caradonna, 254–272. Oxon, UK: Routledge.
Mundoli, Seema, B. Manjunatha, and Harini Nagendra. 2017. "Commons that Provide: The Importance of Bengaluru's Wooded Groves for Urban Resilience." International Journal of Urban Sustainable Development 9 (2): 184–206. https://doi.org/10.1080/19463138.2016.1264404.
Nagendra, Harini. 2010. "Maps, Lakes and Citizens." Seminar September: 19–23. http://www.india-seminar.com/2010/613/613_harini_nagendra.htm
Nagendra, Harini. 2016. Nature in the City: Bengaluru in the Past, Present and Future. New Delhi: Oxford University Press.
Rodriguez-Labajos, Beatriz and Joan Martinez-Alier. 2015. "Political Ecologies of Water Conflicts." Wires Water 2 (5): 537–558. https://doi.org/10.1002/wat2.1092.
Sengupta, Sushmita, Aparna Pallavi, and Subhojit Goswami. 2017. "Bellandur Lake: A Story of Toxic Froth and Fire." Down to Earth, February 18. https://www.downtoearth.org.in/coverage/environment/bellandur-lake-a-story-of-toxic-froth-and-fire-57139.
Shah, Esha. 2012. "Seeing Like a Subaltern – Historical Ethnography of Pre-modern and Modern Tank Irrigation Technology in Karnataka, India." Water Alternatives 5 (2): 507–538.
The Economic Times. 2018. "It's not Switzerland: Bengaluru's Bellandur Lake Spews 10-ft high Toxic Foam." The Economic Times, September 27. https://economictimes.indiatimes.com/news/politics-and-nation/its-not-switzerland-bengalurus-bellandur-lake-spews-10-ft-high-toxic-foam/bellandur-lake-in-bengaluru/slideshow/65978006.cms.
Unnikrishnan, Hita, Seema Mundoli, B. Manjunatha, and Harini Nagendra. 2016. "Down the Drain: The Tragedy of the Disappearing Urban Commons of Bengaluru." South Asian Water Studies 5 (3): 7–11.
Unnikrishnan, Hita, Seema Mundoli, and Harini Nagendra. 2017. "Making Water flow in Bengaluru: Planning for the Resilience of Water Supply in a Semi-arid City." Journal of Sustainable Urbanization, Planning and Progress 2 (1): 1–11.
Van Ginkel, Kees C.H., Arjen Hoekstra, Joost Buurman, and Rick J. Hogeboom. 2018. "Urban Water Security Dashboard: Systems Approach to Characterizing the Water Security of Cities." Journal of Water Resources Planning and Management 144 (12): 1–11. https://doi.org/10.1061/(ASCE)WR.1943-5452.0000997.
Wright-Contreras, Lucia. 2018. "A Transnational Urban Political Ecology of Water Infrastructures: Global Water Policies and Water Management in Hanoi." Public Works Management and Policy 24 (2): 195–212. https://doi.org/10.1177/1087724X18780045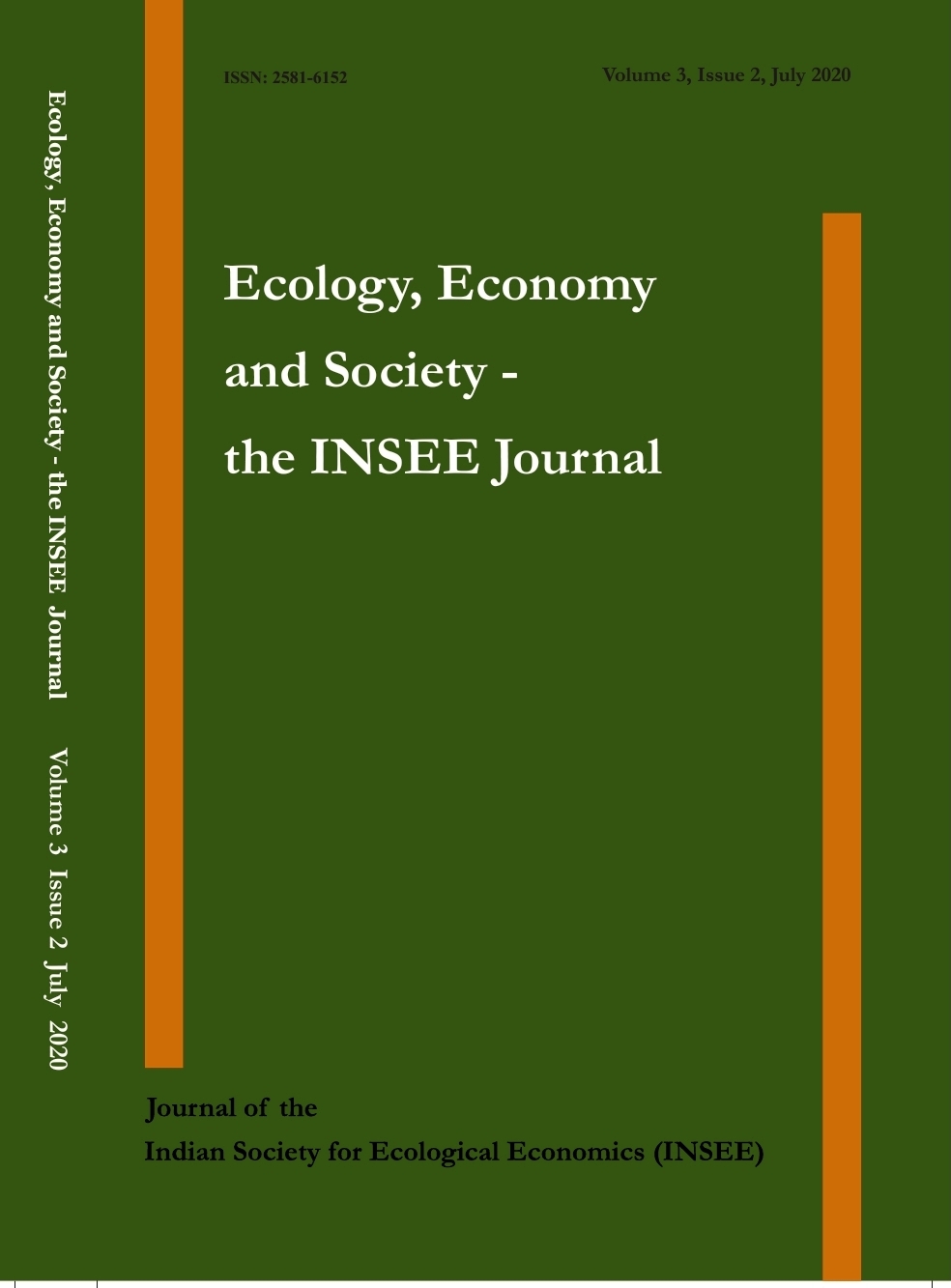 Additional Files
Section
Special Section: New Epistemologies of Water in India - closed
License
Copyright
The author(s) retain copyright on work published by INSEE unless specified otherwise.
Licensing and publishing rights
​Author(s) of work published by INSEE are required to ​​transfer non-exclusive publishing right to INSEE of the definitive work in any format, language and medium, for any lawful purpose.
Authors who publish in Ecology, Economy and Society will release their articles under the Creative Commons Attribution NonCommercial 4.0 International (CC BY-NC 4.0) license. This license allows anyone to copy and distribute the article for non-commercial purposes provided that appropriate attribution is given.
For details of the rights that the authors grant users of their work, see the "human-readable summary" of the license, with a link to the full license. (Note that "you" refers to a user, not an author, in the summary.)
The authors retain the non-exclusive right to do anything they wish with the published article(s), provided attribution is given to the Ecology, Economy and Society—the INSEE Journal with details of the original publication, as set out in the official citation of the article published in the journal. The retained right specifically includes the right to post the article on the authors' or their institution's websites or in institutional repositories.
In case of re-publishing a previously published work, author may note that earlier publication may have taken place a license different from Creative Commons. In all such cases of re-publishing, we advise the authors to consult the applicable licence at article level.