Revealed by Water, Hidden in Water
Indic Hydro-epistemologies of Sacred Things
Keywords:
hydro-epistemology, sacrality, Indic, Sati Pithas, hierophany
Abstract
This essay explores two basic trajectories of the hydro-epistemology of sacred things in Indic cultures: things revealed by water—the visible gifts of water—and things hidden in water with which we can communicate only indirectly, by touching the water. Unlike Mircea Eliade's concept of hierophany, this represents a mode of the sacred that cannot be auto-manifest and depends on water for radiating its sacrality. While the sacred things revealed by water—the conch shell, the bana linga, the svarnamukhi shila, the shaligrama shila—are water's gifts to the Indic religions, there are things that are hidden by water; their hiddenness maintains their secrecy and sacrality. For instance, in certain Sati pithas, the petrified body parts of Goddess Sati are said to remain submerged in water. One can only touch them indirectly, by touching the water that is in touch with the Sati's body. This article illustrates this two-pronged epistemology of the sacred that is propelled by water in Indic religious cultures.
References
Beer, Robert. 2003. The Handbook of Tibetan Buddhist Symbols. Chicago: Serindia.
Chatterjee, Gautam. 2001. Sacred Hindu Symbols. Second Edition. New Delhi: Abhinav Publications.
Clark, William. 2011. "Kankalitala: Mandir and Sacred Kund." Accessed on March 23, 2020. http://www.kalibhakti.com/kankalitala/.
Devasharman, Yatinandan. 2015. Bharater Adhyatmik Aitihya: 51 Shaktipitha. Kolkata: Nijaswa Communication.
Eliade, Mircea. 1959. The Sacred and the Profane: The Nature of Religion. Translated by Willard R. Trask. New York: Harcourt, Brace and World.
Mani, Lata. 2009. Sacred Secular: Contemplative Cultural Critique. New Delhi: Routledge.
Mukhopadhyay, Anway. 2018. The Goddess in Hindu-Tantric Traditions: Devi as Corpse. London and New York: Routledge.
Pintchman, Tracy. 1994. The Rise of the Goddess in the Hindu Tradition. Albany: State University of New York Press.
Sarbadhikary, Sukanya. 2019. "Shankh-er Shongshar, Afterlife Everyday: Religious Experience of the Evening Conch and Goddesses in Bengali Hindu Homes." Religions 10 (1): 1–19. https://doi.org/10.3390/rel10010053.
Taylor, Bron Raymond. 2014. "Sea Spirituality, Surfing and Aquatic Nature Religion." In Deep Blue: Critical Reflections on Nature, Religion and Water, edited by Sylvie Shaw and Andrew Francis, 213–234. London and New York: Routledge.
Vatsyayan, Kapila. 2010. "Introduction: The Ecology and Myth of Water." In Water: Culture, Politics and Management, edited by India International Centre, ix–xxx. New Delhi: Pearson Education.
Warrier, Shrikala. 2014. Kamandalu: The Seven Sacred Rivers of Hinduism. London: Mayur University, with Hindu Heritage Protection, Mumbai.
Williamson, Raymond Keith. 1984. Introduction to Hegel's Philosophy of Religion. Albany: State University of New York Press.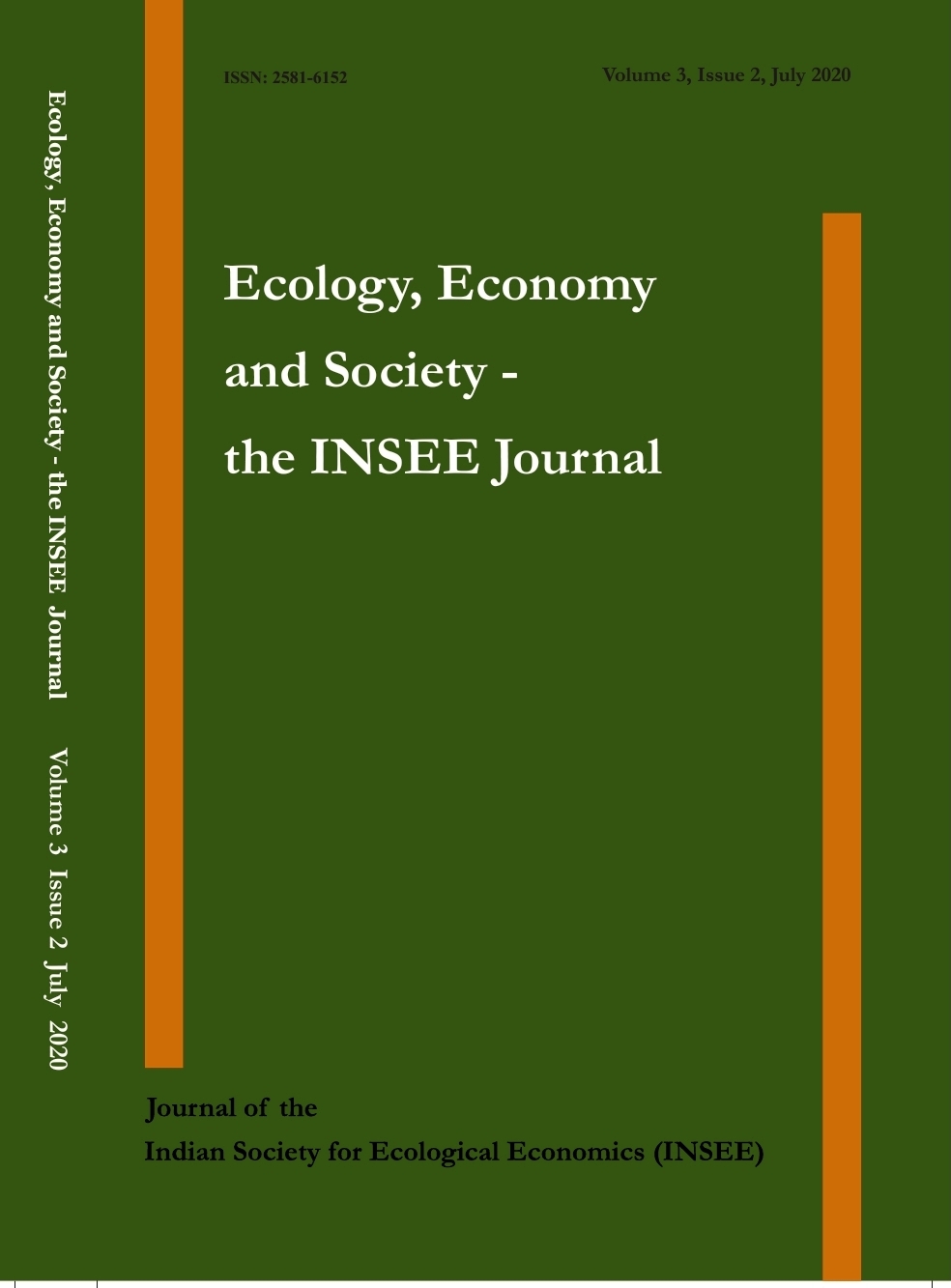 Additional Files
Section
Special Section: New Epistemologies of Water in India - closed
License
Copyright
The author(s) retain copyright on work published by INSEE unless specified otherwise.
Licensing and publishing rights
​Author(s) of work published by INSEE are required to ​​transfer non-exclusive publishing right to INSEE of the definitive work in any format, language and medium, for any lawful purpose.
Authors who publish in Ecology, Economy and Society will release their articles under the Creative Commons Attribution NonCommercial 4.0 International (CC BY-NC 4.0) license. This license allows anyone to copy and distribute the article for non-commercial purposes provided that appropriate attribution is given.
For details of the rights that the authors grant users of their work, see the "human-readable summary" of the license, with a link to the full license. (Note that "you" refers to a user, not an author, in the summary.)
The authors retain the non-exclusive right to do anything they wish with the published article(s), provided attribution is given to the Ecology, Economy and Society—the INSEE Journal with details of the original publication, as set out in the official citation of the article published in the journal. The retained right specifically includes the right to post the article on the authors' or their institution's websites or in institutional repositories.
In case of re-publishing a previously published work, author may note that earlier publication may have taken place a license different from Creative Commons. In all such cases of re-publishing, we advise the authors to consult the applicable licence at article level.