Editorial
Setting the Context
Keywords:
epistemology;, hydrosocial, culture, India, water research
Abstract
Editorial Introduction to the Special Section.
References
Baghel, Ravi, Lea Stepan, and Joseph K. W. Hill. 2017. Water, Knowledge and the Environment in Asia: Epistemologies, Practices and Locales. London: Earthscan.
Berque, Augustin. 2014. La mésologie, pourquoi et pour quoi faire ? Nanterre: Presses Universitaires de Paris Ouest.
Evers, Mariele, Britta Höllermann, Adrian Delos Santos Almoradie, Glenda Garcia Santos, and Linda Taft. 2017. "The Pluralistic Water Research Concept: A New Human-Water System Research Approach." Water 9: 933. https://doi.org/10.3390/w9120933.
Jr. Wescoat, James L. 2013. "Reconstructing the Duty of Water: A Study of Emergent Norms in Socio-Hydrology." Hydrology and Earth System Sciences 17 (12): 4759–4768. https://doi.org/10.5194/hess-17-4759-2013.
Lafaye de Micheaux, Flore, and Jenia Mukherjee. Forthcoming: 2021. "Groundwater and Society: Enmeshed Issues, Interdisciplinary Approaches." In Global Groundwater: Source, Scarcity, Sustainability, Security and Solutions, edited by A. Mukherjee, B. Scanlon, A. Aureli, S. Langan, H. Guo, and A. McKenzie. USA: Elsevier.
Linton, Jamie. 2010. What Is Water? The History of a Modern Abstraction. Vancouver: UBC Press.
Mukherjee, Jenia. 2018. "From Hydrology to Hydrsosocial: Historiography of Waters in India." In Routledge Handbook of the History of Sustainability, edited by J. L. Caradonna, 254–72. Oxon, UK: Routledge.
Mukherjee, Jenia. 2020. Blue Infrastructures: Natural History, Political Ecology and Urban development in India. Singapore: Springer.
Nüsser, Marcus, Juliane Dame, Benjamin Kraus, Ravi Baghel, and Susanne Schmidt. 2019. "Socio-hydrology of 'Artificial Glaciers' in Ladakh, India: Assessing Adaptive Strategies in a Changing Cryosphere." Regional Environmental Change 19: 1327–1337. https://doi.org/10.1007/s10113-018-1372-0.
Rittel, Horst J. W., and Melvin M. Webber. 1973. "Dilemmas in a General Theory of Planning." Policy Sciences 4 (June): 155–169.
Rockström, Johan, Will Steffen, Kevin Noone, Asa Persson, F. Stuart III Chapin et al. 2009. "Planetary Boundaries: Exploring the Safe Operating Space for Humanity." Ecology and Society 14 (2): 32.
Rusca, Maria, and Guiliano Di Baldassarre. 2019. "Interdisciplinary Critical Geographies of Water: Capturing the Mutual Shaping of Society and Hydrological Flows." Water 11 (10): 1973. https://doi.org/10.3390/w11101973.
Schmidt, Jeremy J. 2017. Water: Abundance, Scarcity and Security in the Age of Humanity. New York: New York University Press.
Srinivasan, Veena. 2015. "Reimagining the Past – Use of Counterfactual Trajectories in Socio‐hydrological Modelling: The Case of Chennai, India." Hydrology and Earth System Sciences 19 (February): 785–801. https://doi.org/10.5194/hess-19-785-2015.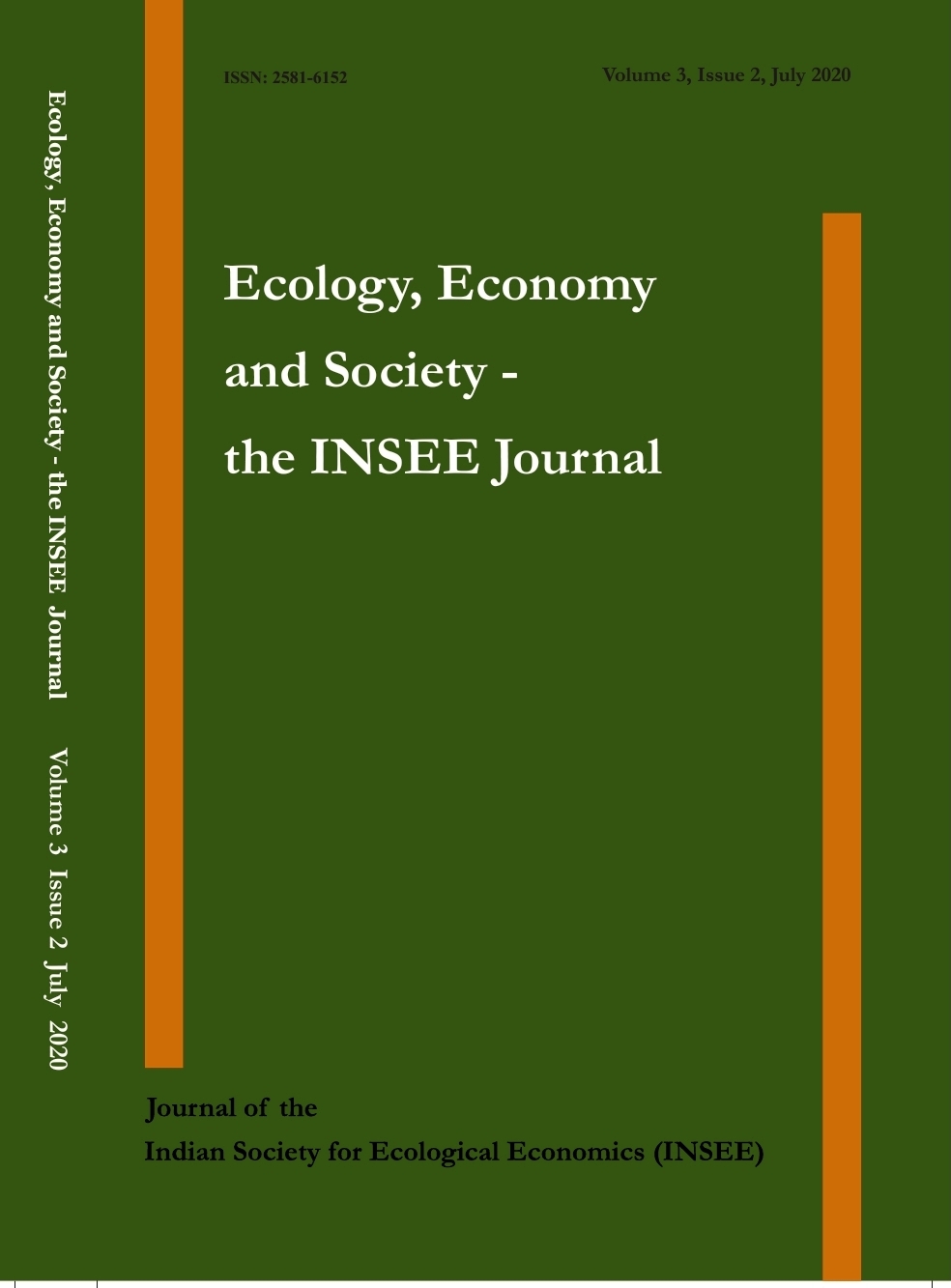 Additional Files
Section
Special Section: New Epistemologies of Water in India - closed
License
Copyright
The author(s) retain copyright on work published by INSEE unless specified otherwise.
Licensing and publishing rights
​Author(s) of work published by INSEE are required to ​​transfer non-exclusive publishing right to INSEE of the definitive work in any format, language and medium, for any lawful purpose.
Authors who publish in Ecology, Economy and Society will release their articles under the Creative Commons Attribution NonCommercial 4.0 International (CC BY-NC 4.0) license. This license allows anyone to copy and distribute the article for non-commercial purposes provided that appropriate attribution is given.
For details of the rights that the authors grant users of their work, see the "human-readable summary" of the license, with a link to the full license. (Note that "you" refers to a user, not an author, in the summary.)
The authors retain the non-exclusive right to do anything they wish with the published article(s), provided attribution is given to the Ecology, Economy and Society—the INSEE Journal with details of the original publication, as set out in the official citation of the article published in the journal. The retained right specifically includes the right to post the article on the authors' or their institution's websites or in institutional repositories.
In case of re-publishing a previously published work, author may note that earlier publication may have taken place a license different from Creative Commons. In all such cases of re-publishing, we advise the authors to consult the applicable licence at article level.