Can the Twain Ever Meet? Environmental Jurisprudence and Justice in India
Review of Shibani Ghosh, ed. 2019, Indian Environmental Law: key concepts and principles, Delhi: Orient Blackswan.
Manshi Asher

Himdhara Environment Research and Action Collective
Keywords:
Environmental Justice, Environmentalism, Environmental Jurisprudence, Environmental Law, Judicial activism
References
Ahmed Omair. 2018. "Rights without Institutions are No Rights at All." The Third Pole, July 26. https://www.thethirdpole.net/en/2018/07/26/rights-without-institutions-are-no-rights-at-all/.
Benjamin, Vipin Mathew. 2010. Has the Judiciary Abandoned the Environment? New Delhi: Human Rights Law Network.
Bhatia, Gautam. 2014. "Book Review: 'The Shifting Scales of Justice: The Supreme Court in Neo-Liberal India.'" Indian Constitutional Law and Philosophy, February 23. https://indconlawphil.wordpress.com/2014/02/23/book-review-the-shifting-scales-of-justice-the-supreme-court-in-neo-liberal-india/.
Dutta, Ritwick. 2019. "Woes of the National Green Tribunal: Are the Recent Appointments Unconstitutional?" Bar and Bench, October 9. https://barandbench.com/new-appointments-national-green-tribunal-unconstitutional-judicial-independence/?_branch_match_id=709144027720293519.
Ghosh, Shibani, ed. 2019. Indian Environmental Law Key Concepts and Principles. Hyderabad: Orient Black Swan.
Ghosal Aniruddha. 2018. "Four Environmental Rules Diluted in 2018 That Will Have an Impact Next Year and Beyond." News 18, December 26. https://www.news18.com/news/india/four-environmental-rules-diluted-in-2018-that-will-have-an-impact-next-year-and-beyond-1984047.html.
PTI. 2019. "India Ranks 177 out of 180 in Environmental Performance Index." The Hindu, January 24. https://www.thehindu.com/sci-tech/energy-and-environment/india-ranks-177-out-of-180-in-environmental-performance-index/article22513016.ece.
Lohman, Larry. 2019. "Neoliberalism, Law and Nature." In Research Handbook on Law, Environment, edited by Philippe Cullet and Sujith Koonan, 32–63. United Kingdom: Edward Elgar Publications.
Mate, Manoj. 2015. "The Rise of Judicial Governance in the Supreme Court of India." Boston University International Law Journal 33: 169. DOI: https://doi.org/10.2139/ssrn.2544307
Pal, Sumedha. 2019. "Niyamgiri Anti-mining Struggle: Brutal Repression by Odisha Govt Continues." Newsclick, August 21. https://www.newsclick.in/Niyamgiri-Anti-Mining-Struggle-Activists-Arrest-Vedanta-Odisha-Government.
Roy Brototi. 2019. "Environmental Rights have Been Denuded." The Hindu Businessline, November 6. https://www.thehindubusinessline.com/opinion/columns/environmental-rights-have-been-denuded/article29890867.ece.
Thayyil, Naveen. 2009. "Judicial Fiats and Contemporary Enclosures." Conservation and Society 7 (4): 268–282. DOI: https://doi.org/10.4103/0972-4923.65173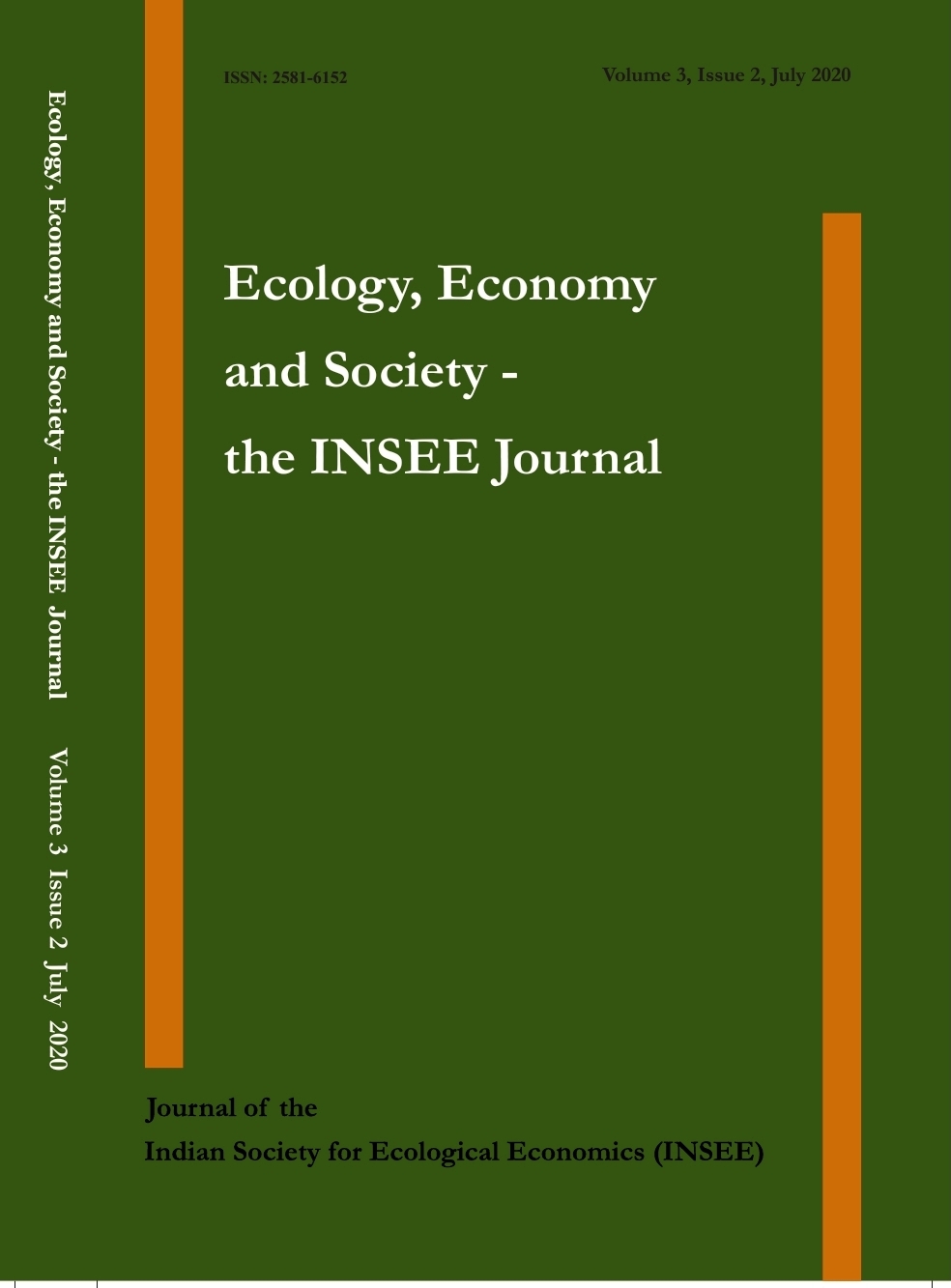 Copyright (c) 2020 Asher
This work is licensed under a Creative Commons Attribution-NonCommercial 4.0 International License.
Copyright
The author(s) retain copyright on work published by INSEE unless specified otherwise.
Licensing and publishing rights
Author(s) of work published by INSEE are required to grant INSEE the unlimited rights to publish the definitive work in any format, language and medium, for any lawful purpose. INSEE requires journal authors to publish their work in open access under the Creative Commons Attribution NonCommercial 4.0 International (CC BY-NC 4.0) license.
The authors retain the non-exclusive right to do anything they wish with the published article(s), provided attribution is given to the Ecology, Economy and Society—the INSEE Journal with details of the original publication, as set out in the official citation of the article published in the journal. The retained right specifically includes the right to post the article on the authors' or their institution's websites or in institutional repositories.
In case of re-publishing a previously published work, author may note that earlier publication may have taken place a license different from Creative Commons. In all such cases of re-publishing, we advise the authors to consult the applicable licence at article level.