A Call to Redefine 'the Field' in Nature Conservation Studies in India
Keywords:
Nature Conservation Studies
References
Aini, John and Paige West. 2018. "Communities Matter: Decolonizing Conservation Management." Last modified July 28, 2018. https://paige-west.com/2018/07/28/decolonizing-conservation/.
Berkes, Fikret and Nancy J. Turner. 2006. "Knowledge, Learning and the Evolution of Conservation Practice for Social-ecological System Resilience." Human Ecology 34 (4): 479–494.
De Santo, Elizabeth M. 2020. "Militarized Marine Protected Areas in Overseas Territories: Conserving Biodiversity, Geopolitical Positioning, and Securing Resources in the 21st Century." Ocean & Coastal Management 184. https://doi.org/10.1016/j.ocecoaman.2019.105006.
Duffy, Rosaleen. 2014. "War, by Conservation." Geoforum 69: 238–248. https://doi.org/10.1016/j.geoforum.2015.09.014.
Evanescence Studios. 2014. "Living with Elephants." Last modified July 24, 2014. https://youtu.be/MWcdMjv41ho.
Gadgil, Madhav, et al. 2011. "Report of the Western Ghats Ecology Expert Panel – Part I." Last modified April 2, 2016. https://archive.org/details/ReportOfTheWesternGhatsEcologyExpertPanel/page/n129/mode/2up.
Ghosal, Sunetro and Darley Kjosavik. 2015. "Living with Leopards: Negotiating Morality and Modernity in Western India." Society & Natural Resources 28 (10): 1092–1107. https://doi.org/10.1080/08941920.2015.1014597.
Gupta Akhil and James Ferguson. 1997. "Discipline and Practice: 'The Field' as Site, Method and Location in Anthropology." In Anthropological Locations: Boundaries and Grounds of a Field Science, edited by Akhil Gupta and James Ferguson, 1–46. Berkeley: University of California Press.
Kabra, Asmita. 2019. "Caste in Stone? Exploring Caste and Class Dimensions of Conservation Displacement in India." Journal of Contemporary Asia. https://doi.org/10.1080/00472336.2019.1696877.
MacDonald, Kenneth Iain. 2010. "Business, Biodiversity and New 'Fields' of Conservation: The World Conservation Congress and the Renegotiation of Organisational Order." Conservation and Society 8 (4): 268–275.
Mbaria, John and Ogada, Mordecai. 2016. The Big Conservation Lie. Seattle: Lens & Pens Publishing.
Muralidharan, Rahul and Nitin D. Rai. 2020. "Violent Maritime Spaces: Conservation and Security in Gulf of Mannar Marine National Park, India." Political Geography 80 (June): https://doi.org/10.1016/j.polgeo.2020.102160.
Ramesh, Madhuri and Nitin D. Rai. 2017. "Trading on Conservation: A Marine Protected Area as an Ecological Fix." Marine Policy 82: 25–31.
Sharma, S.C. 2006. "Background and Scope of the GoI–UNDP Sea Turtle Project." In Marine Turtles of the Indian Subcontinent, edited by Kartik Shanker and B.C. Choudhury, 22–29. Hyderabad: Universities Press.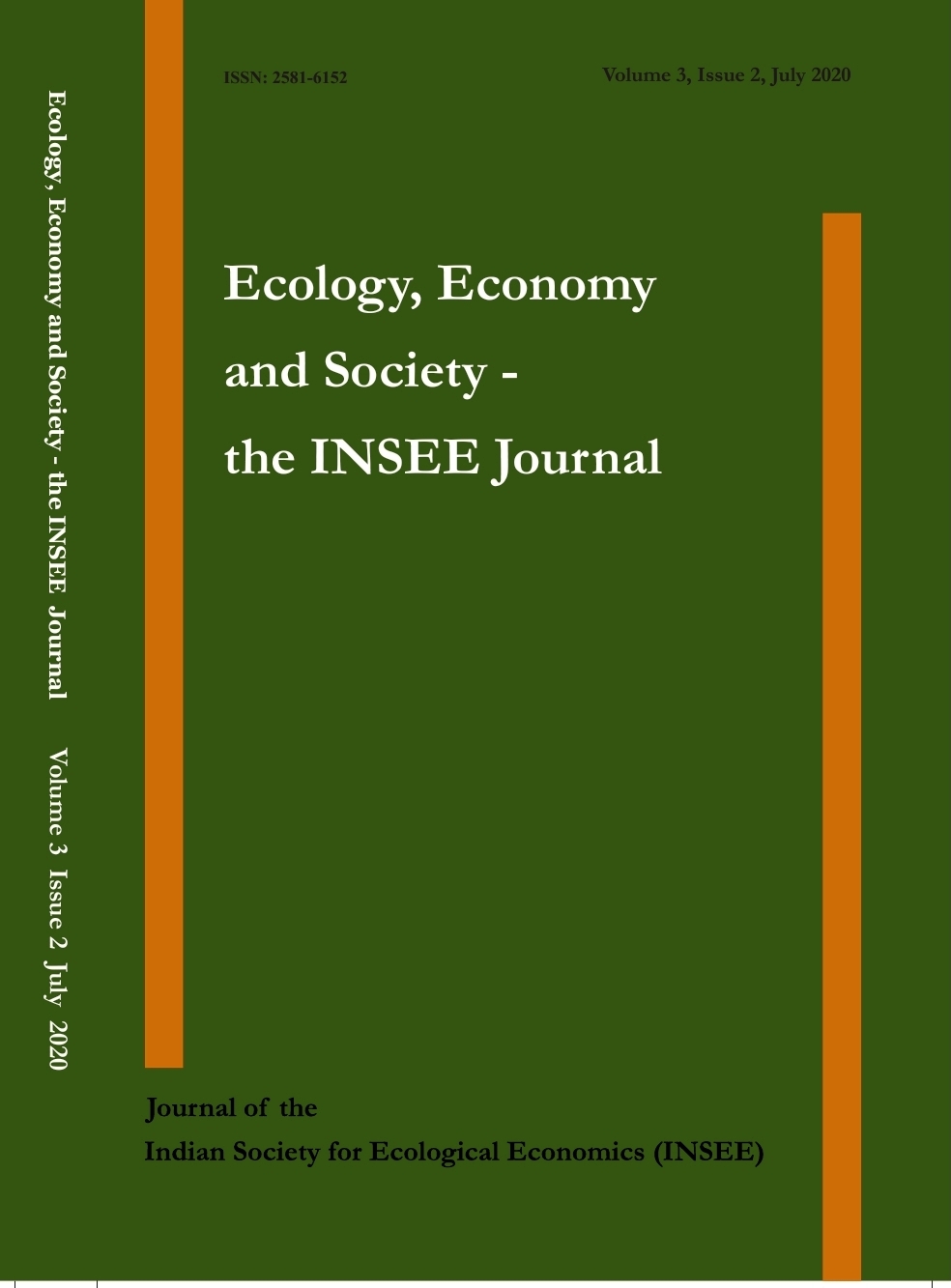 Additional Files
License
Copyright
The author(s) retain copyright on work published by INSEE unless specified otherwise.
Licensing and publishing rights
​Author(s) of work published by INSEE are required to ​​transfer non-exclusive publishing right to INSEE of the definitive work in any format, language and medium, for any lawful purpose.
Authors who publish in Ecology, Economy and Society will release their articles under the Creative Commons Attribution NonCommercial 4.0 International (CC BY-NC 4.0) license. This license allows anyone to copy and distribute the article for non-commercial purposes provided that appropriate attribution is given.
For details of the rights that the authors grant users of their work, see the "human-readable summary" of the license, with a link to the full license. (Note that "you" refers to a user, not an author, in the summary.)
The authors retain the non-exclusive right to do anything they wish with the published article(s), provided attribution is given to the Ecology, Economy and Society—the INSEE Journal with details of the original publication, as set out in the official citation of the article published in the journal. The retained right specifically includes the right to post the article on the authors' or their institution's websites or in institutional repositories.
In case of re-publishing a previously published work, author may note that earlier publication may have taken place a license different from Creative Commons. In all such cases of re-publishing, we advise the authors to consult the applicable licence at article level.