Role of Marine National Park for Sustainable Livelihoods of Artisan Fisherfolk
A case study of MNP, Jamnagar
Keywords:
Gulf of Kachchh, Marine National Park (MNP), Fisherfolks, Sustainable Livelihood, Community Based Management
Abstract
Over the past few decades, marine conservation has become a global concern due to increasing anthropogenic activities in the vicinity of coastal areas, which has led to the development of the concept of Marine Protected Areas (MPAs) for the conservation of marine ecology and its biodiversity. Conservation and acceptance of MPAs can only be achieved if coastal communities and fisherfolk are included as significant stakeholders because MPAs have direct relevance to their livelihood. To capture their acceptance towards the Gulf of Kachchh Marine National Park (MNP), Jamnagar, artisanal fisherfolk fishing in and around the MNP were surveyed to determine whether the presence of a well-managed MNP has any positive effects on the adjacent fishing communities since its establishment. The findings showed that the total fish catch was observed to increase over the years, but there has been a perceived decline in total catch in recent years. Similarly, while the total fish catch data recorded an increasing trend, discussions with the fisherfolk revealed a sharp decline in "catch per unit effort" in recent years. Fisherfolk from all sites showed interest in the development of the MNP and were keen to be involved in conservation planning and the management of the MNP.
References
Alcala, Angel C., and Garry R. Russ. 2006. "No-take Marine Reserves and Reef Fisheries Management in the Philippines: A New People Power Revolution." Ambio 35 (5): 245–254. http://dx.doi.org/10.1579/05-a-054r1.1.
Beaumont, Julia. 1997. "Community Participation in the Establishment and Management of Marine Protected Areas: A Review of Selected International Experience." South African Journal of Marine Science 18 (1): 333–340. https://doi.org/10.2989/025776197784161009.
Biswas, Nilanjana 2009. "Gulf of Kutch Marine National Park and Marine Wildlife Sanctuary: A Case Study." International Collective in Support of Fishworkers, Chennai, India. Accessed November 9, 2019. http://aquaticcommons.org/2077/1/Kutch.pdf.
Dixit, Arun Mani, Pushpam Kumar, Lalit Kumar, Kinjal D. Pathak, and M. I. Patel. 2010. "Economic Valuation of Coral Reef Ecosystem in Gulf of Kachchh." Gujarat Ecology Commission, Gandhinagar. http://www.geciczmp.com/Data/Sites/1/docs/ebooks/economic-valuation-of-coralreef-systems-in-gulf-of-kachchh.pdf.
GEC, 2009. Draft Detailed Project Report for Component: A, Coastal Resources Conservation & Management. Gandhinagar, Gujarat: Gujarat Ecology Commission. http://www.geciczmp.com/Data/Sites/1/docs/project-documents/detailed-project-report.pdf.
Gleason, Mary, Scott McCreary, Melissa Miller-Henson, John Ugoretz, Evan Fox, Matt Merrifield, Will McClintock, Paulo Serpa, and Kathryn Hoffman. 2010. "Science-based and Stakeholder-driven Marine Protected Area Network Planning: A Successful Case Study from North Central California." Ocean & Coastal Management 53: 52–68. https://doi.org/10.1016/j.ocecoaman.2009.12.001.
Hamilton, Mark. 2012. "Perceptions of Fishermen towards Marine Protected Areas in Cambodia and the Philippines." Bioscience Horizons 5: 1–24. https://doi.org/10.1093/biohorizons/hzs007.
Himes, Amber H. 2003. "Small-scale Sicilian Fisheries: Opinions of Artisanal Fishers and Sociocultural Effects in Two MPA Case Studies." Coastal Management 31: 389–408. https://doi.org/10.1080/08920750390232965.
Jentoft, Svein. 2000. "The Community: A Missing Link of Fisheries Management." Marine Policy 24: 53–59.
Karnad, Divya, Mayuresh Gangal, and Krithi K. Karanth. 2014. "Perceptions Matter: How Fishers' Perceptions Affect Trends of Sustainability in Indian Fisheries." Oryx 48 (2): 218–27. https://doi.org/10.1017/S0030605312001251.
Klein, Carissa J., A. Chan, L. Kircher, A. J. Cundiff, N. Gardner, Y. Hrovat, A. Scholz, B. E. Kendall, and S. Airamé. 2008. "Striking a Balance between Biodiversity Conservation and Socioeconomic Viability in the Design of Marine Protected Areas." Conservation Biology 22 (3): 691–700. https://doi.org/10.1111/j.1523-1739.2008.00896.x.
Kumar, Mohit, Rohit Magotra, Jyoti Parikh, and A. S. Rajawat. 2017. "Changing Landscape of Marine National Park and Sanctuary, Gulf of Kachchh: Ecological Assessment of Mangroves and Coral Reefs." Proceedings of the National Academy of Sciences, India, Section A Physical Sciences 87: 889-900. https://doi.org/10.1007/s40010-017-0457-3.
Magotra, Rohit, Mohit Kumar, Pushkar Pandey, Asha Kaushik, Sonali Vyas, Mohit Kumar Gupta, and Jyoti Parikh. 2017. Review of Status of Marine National Park, Jamnagar and Evolving a Vision Statement for Management of MNP. New Delhi: Integrated Research and Action for Development. https://irade.org/MNP%20Report_revised%2008-03-2019_LowRes.pdf.
Mascia, Michael B., Anne Claus, and Robin Naidoo. 2010. "Impacts of Marine Protected Areas on Fishing Communities." Conservation Biology 24 (5): 1424–1429. https://doi.org/10.1111/j.1523-1739.2010.01523.x.
Mohanraj, Govindaraj, K. V. Somasekharan Nair, Pillaru K. Asokan, and Shubhadeep Ghosh 2009. "Status of Marine Fisheries in Gujarat with Strategies for Sustainable and Responsible Fisheries." Asian Fisheries Science 22 (1): 285–296. http://eprints.cmfri.org.in/id/eprint/5734.
Pita, Cristina, Graham J. Pierce, and Ioannis Theodossiou. 2010. "Stakeholders' Participation in the Fisheries Management Decision-making process: Fishers' Perceptions of Participation." Marine Policy 34 (5): 1093–1102. https://doi.org/10.1016/j.marpol.2010.03.009.
Sharma, H., M. Swain, M. and S. S. Kalamkar. 2016. Evaluation and Assessment of Economic Losses on Account of Inadequate Post-Harvest Infrastructure Facilities for Fisheries Sector in Gujarat. Anand: Agro-Economic Research Centre, Sardar Patel University. https://spuvvn.edu/academics/academic_centres/agro_economic_centre/research_studies/163.%20AERC%20Gujarat%20Fishery%20Report%20Final%20March%202016%20ok.pdf.
Singh, H. S. 2003. "Marine Protected Areas in India." Indian Journal of Marine Sciences 32 (3): 226–233. http://nopr.niscair.res.in/handle/123456789/4271.
Sridhar, Aarthi. 2017. "Marine Parks in India – A Case for Maritime Environmentalism." Current Conservation. Accessed November 14, 2019. https://www.currentconservation.org/issues/marine-parks-in-india-a-case-for-maritime-environmentalism/.
Rajawat, A. S., H. B. Chauhan, R. Ratheesh, S. Rode, R. J. Bhanderi, M. Mahapatra, M. Kumar, R. Yadav, S. P. Abraham, S. S. Singh, et al. 2015. "Assessment of Coastal Erosion along the Indian Coast on 1:25,000 Scale using Satellite Data of 1989–1991 and 2004–2006 Time Frames." Current Science India 109: 347–353. https://doi.org/10.5194/isprsarchives-XL-8-119-2014.
Uychiaoco, A. J., H. O. Arceo, S. J. Green, M. T. De La Cruz, P. A. Gaite, and P. M. Aliño. 2005. "Monitoring and Evaluation of Reef Protected Areas by Local Fishers in the Philippines: Tightening the Adaptive Management Cycle." Biodiversity and Conservation 14 (11): 2775–2794. https://doi.org/10.1007/s10531-005-8414-x.
Vethamony, P. and M. T. Babu. 2010. "Physical Characteristics of Gulf of Kachchh: A Review." Indian Journal of Geo-Marine Sciences 39 (4): 497–503. http://nopr.niscair.res.in/handle/123456789/10795.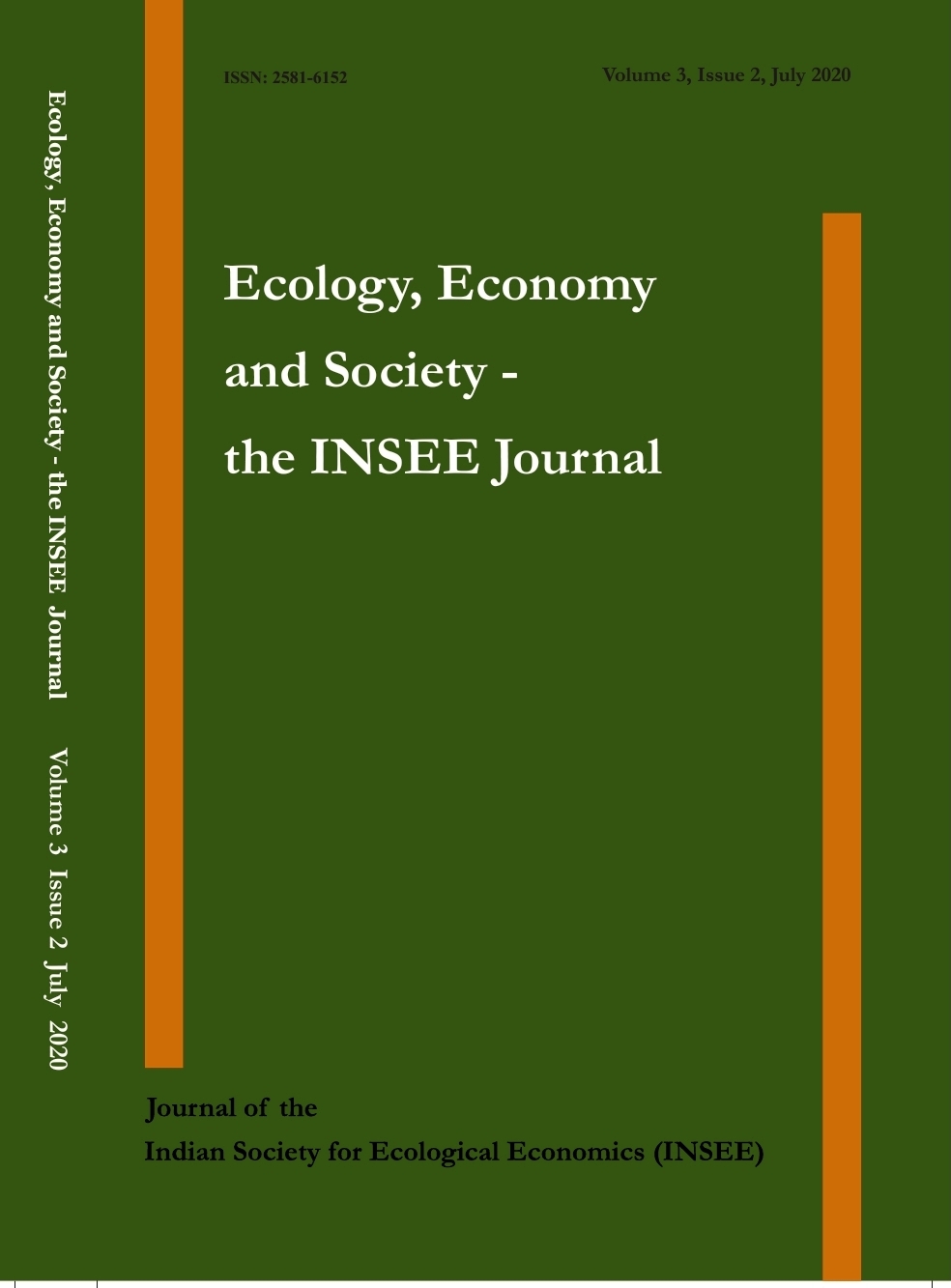 Additional Files
License
Copyright
The author(s) retain copyright on work published by INSEE unless specified otherwise.
Licensing and publishing rights
​Author(s) of work published by INSEE are required to ​​transfer non-exclusive publishing right to INSEE of the definitive work in any format, language and medium, for any lawful purpose.
Authors who publish in Ecology, Economy and Society will release their articles under the Creative Commons Attribution NonCommercial 4.0 International (CC BY-NC 4.0) license. This license allows anyone to copy and distribute the article for non-commercial purposes provided that appropriate attribution is given.
For details of the rights that the authors grant users of their work, see the "human-readable summary" of the license, with a link to the full license. (Note that "you" refers to a user, not an author, in the summary.)
The authors retain the non-exclusive right to do anything they wish with the published article(s), provided attribution is given to the Ecology, Economy and Society—the INSEE Journal with details of the original publication, as set out in the official citation of the article published in the journal. The retained right specifically includes the right to post the article on the authors' or their institution's websites or in institutional repositories.
In case of re-publishing a previously published work, author may note that earlier publication may have taken place a license different from Creative Commons. In all such cases of re-publishing, we advise the authors to consult the applicable licence at article level.