Himal Rakshak of Sikkim
The Burden of Being the Flag-bearers of Community-based Conservation
References
Behnke, Roy, and Ian Scoones. 1992. "Rethinking Range Ecology: Implications for Rangeland Management in Africa." Issues Paper 33. London: International Institute for Environment and Development.
Brown, H. Leslie. 1971. "The Biology of Pastoral Man as a Factor in Conservation." Biological Conservation 3: 93-100.
Kabra, Asmita. 2018. "Revisiting Canons and Dogmas in the Conservation-versus-Human Rights Debate." Ecology, Economy and Society-the INSEE Journal 1 (1): 83–86. https://doi.org/10.37773/ees.v1i1.20.
Lélé, Sharachchandra. 2004. Decentralising Governance of Natural Resources in India: A Review. Report for UNDP Dryland Development Centre, Nairobi.Bangalore: Centre for Interdisciplinary Studies in Environment and Development.
Niamir-Fuller, Maryam. 1999. Managing Mobility in African Rangelands. London: Intermediate Technology Publications.
Sarin, Madhu, Neera M. Singh, Nandini Sundar, and Ranu K. Bhogal. 2003. "Devolution as a Threat to Democratic Decision-making in Forestry? Findings from Three States in India." In Local Forest Management: The Impacts of Devolution Policies, edited by David Edmunds and Eva Wollenberg, 55–126. London: Earthscan.
Scoones, Ian. 1994. Living with Uncertainty: New Directions in Pastoral Development in Africa. London, UK: Intermediate Technology Publications.
Stebbings, Edward Percy. 1935. "The Encroaching Sahara". Geographical Journal 86: 510–518.
Shrestha, Priyadarshinee, Partha S. Ghose, Lak T. Theengh, and Basant Sharma. 2013. Monitoring of High Altitude Habitats in West Sikkim by Himal Rakshak. India: World Wildlife Fund.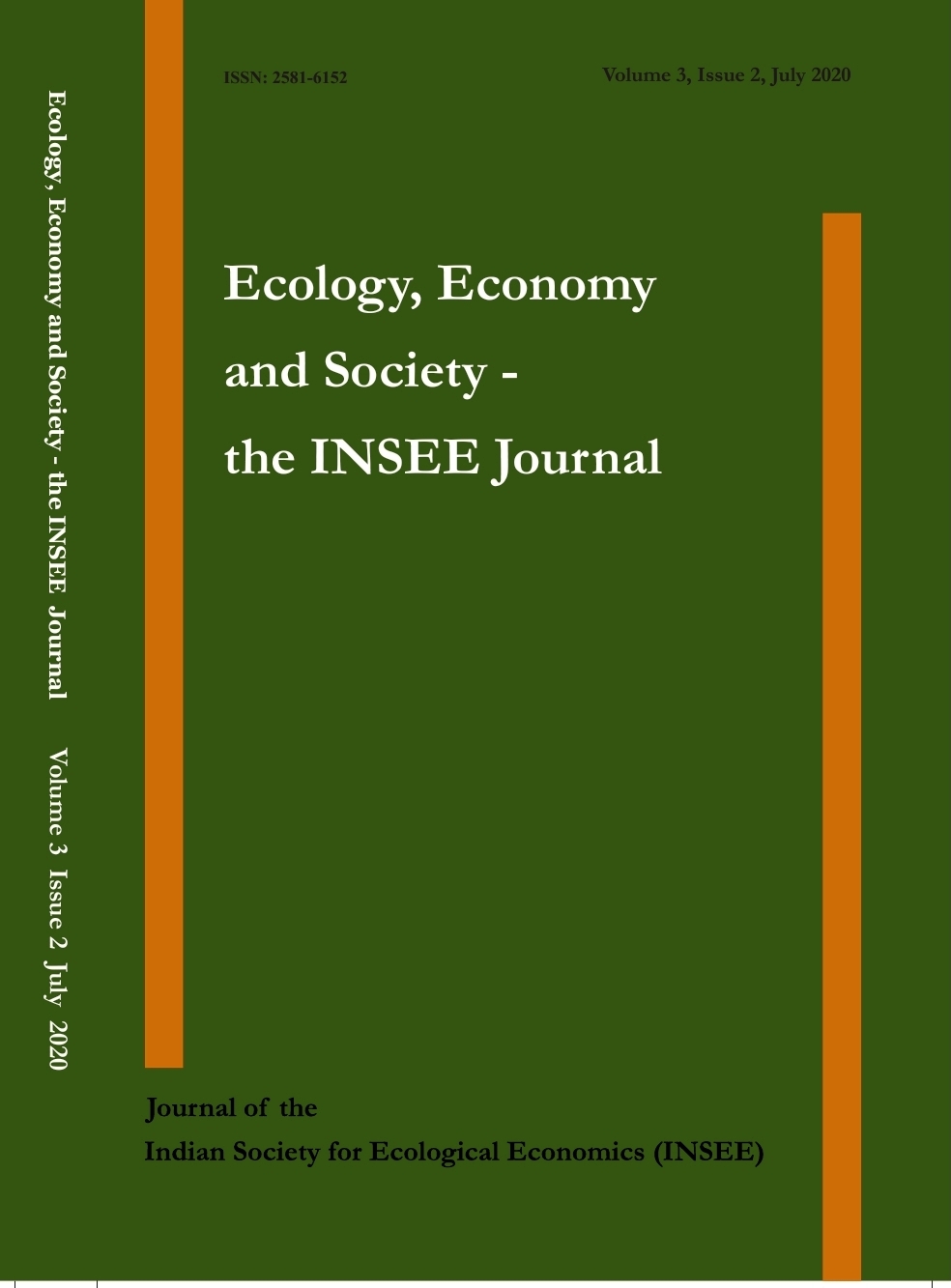 Additional Files
Section
Notes from the Field
License
Copyright
The author(s) retain copyright on work published by INSEE unless specified otherwise.
Licensing and publishing rights
​Author(s) of work published by INSEE are required to ​​transfer non-exclusive publishing right to INSEE of the definitive work in any format, language and medium, for any lawful purpose.
Authors who publish in Ecology, Economy and Society will release their articles under the Creative Commons Attribution NonCommercial 4.0 International (CC BY-NC 4.0) license. This license allows anyone to copy and distribute the article for non-commercial purposes provided that appropriate attribution is given.
For details of the rights that the authors grant users of their work, see the "human-readable summary" of the license, with a link to the full license. (Note that "you" refers to a user, not an author, in the summary.)
The authors retain the non-exclusive right to do anything they wish with the published article(s), provided attribution is given to the Ecology, Economy and Society—the INSEE Journal with details of the original publication, as set out in the official citation of the article published in the journal. The retained right specifically includes the right to post the article on the authors' or their institution's websites or in institutional repositories.
In case of re-publishing a previously published work, author may note that earlier publication may have taken place a license different from Creative Commons. In all such cases of re-publishing, we advise the authors to consult the applicable licence at article level.